Storage spaces are becoming valuable as the living spaces continue to shrink.Wardrobe designs are now more focussed on providing optimum space. With the latest designs, perfect space management is possible. Wardrobes today are able to eliminate clutter, even if you are living in a small apartment.Wardrobe interiors need to provide for all your storage needs. Be itclothes, shoes,accessories, perfumes and any other Knick-knacks that you may want to keep. While choosing your wardrobe, take into consideration the area it is going to occupy, the items you need to store in it and its aesthetic appeal.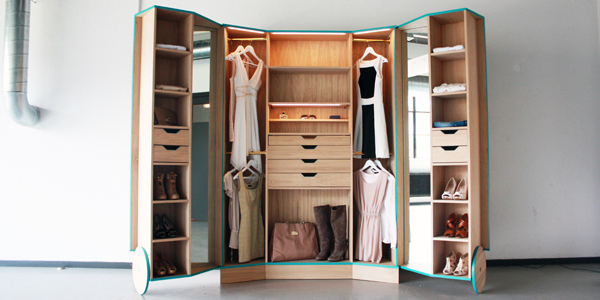 Cabinets
Look for wardrobes which have deep cabinets as this will give you ample storage space for all your clothes, shoe boxes, and even bedsheets. Deep cabinets also have the advantage of giving more room for the same length of the cabinet. Use shelf dividers to use space better. You can use extender rods too. With extra shelf dividers, most of your shoes can be stacked neatly at the bottom.
Doors
Look for wardrobes with sliding doors or wing linedoors. They are stylish to look at and alsowill not need that extra space while opening. Sliding door cabinets can be fixed in places where you do not have much space for opening or closing the doors of your wardrobe. These are more versatile in terms of where you place it as they can even be set-up in corners.Their sleek finish ensures a clutter-free outlook to any space.
Look for partitions
Choose wardrobes which have partitions as this is a convenient way to separate units and cabinets. This is important if you are using the wardrobe space not just for yourclothes, but also for your files and folders, maybe even your shoes and other accessories.
Select wardrobes with accessories
It is important that you choose your storage space that suits the accessories that you own. Since it is here that you will be keeping all your finery. There should be enough trouser racks, hook lines, hanger racks to store your sarees and other finery. But if you don't need a space with one of these items, choose a design that has a space for something you need.
Lighting
Choose a wardrobe which has the provision for light.Lighting will add to the space of the wardrobe and a well-lit wardrobe provides easy access to all that you need to get from it. This feature also provides you with the option of seeing your clothes in their true colour rather than bringing out each cloth and checking in the bright bedroom light.
Built-in wardrobes
For a small space, a built in wardrobe that takes care of all your storage needs is worth it. Wardrobes that reach the ceiling are a great option as they can even store your empty suitcases on top, out of the way until you need them.
Colour choice
Last but not the least, it is important to choose the wardrobe which will not make your living space cramped. While choosing your wardrobe choose colours that will give an appearance of added space. This is possible if you choose lighter colours like whites or pastel shades. If you want a standout look, a bright colour is fine but it will not enhance the spacious look that you may want to have.